As some 2,800 industry professionals convened in Chicago for the 2023 NIC Fall Conference, the somber economic backdrop threatened to cast a pale over the event. Fortunately, the resiliency the seniors housing and care industry has demonstrated in recent years was on full display, as our NIC Fall wrap-up details how long-term optimism seemed to triumph over short-term pain in many conversations and panel discussions.
The industry's current outlook? Despite an uneven recovery, the operating side is healing, care is improving, and although there is still ground to make up to return to pre-pandemic occupancy levels, overall performance continues to steadily improve. Unfortunately, even with these improvements, the industry has been hit with a new crisis in the form of surging interest rates and the rising cost of capital. Clearly contrasting forces and exogenous events are contributing to the uneven recovery, as the seniors housing and care industry remains saddled with serious challenges and buoyed by strong fundamentals and favorable demographics. How these forces will play out in the coming months and years was top of mind for NIC conferencegoers throughout the three-day event.
Improving Operations Improves Everything
In an opening session on unlocking creative capital relationships, Ventas CEO Debra Cafaro and Welltower CEO Shankh Mitra made clear that the optimism being felt in spite of today's economic challenges is valid because the industry has learned so much through the trials of the past few years. In the wake of the pandemic's height, operators have improved processes, the quality of the care delivered, and the communication between care providers. There is an enhanced focus on wellness and helping seniors live longer, happier lives, "which is our whole job," as Cafaro put it.
NIC discussions emphasized the notion that strong operators will be a critical part of the industry's success going forward. Operators have been under a lot of stress in recent years. And as Mitra put it, there are two kinds of prevalent perspectives today. The first is fatigue and a desire to exit, as the stress and regulatory burden outweighs the potential upside for certain operators that are ready to move on. The second perspective is one of doubling down on commitment to the industry and focusing on taking business operations to the next level. The silver tsunami and favorable demographics are coming, and those that up their game now will be best positioned to benefit in the future.
Both perspectives are valid. The latter, however, the one of excitement to improve the business by enhancing the resident and employee experience, is the one that will ultimately drive the industry forward. Collaborating with like-minded capital will benefit operators and investors alike, as advancing the industry will be a journey requiring contributions from many parties.
That all sounds good, of course, but specifics matter. And when it comes to how the operations of tomorrow will differ from today, Mitra noted that there is still too much focus on one person's ability to make an impact. Superstar employees can indeed provide excellent care and change lives, but that is a lot of pressure to put on an individual. Going forward, he argued, organizations can increasingly find resident-care solutions in infrastructure, robotics, artificial intelligence, data analytics, and/or machine learning. From how operators collect rent to changing the customer journey, there are many opportunities to enhance resident and patient experience with technological advancements. Momentum on that front should continue to accelerate, Mitra added, benefiting the industry over the long haul.
What can operators do in the meantime?
Stay the Course
"Most of my discussions with operators at this year's NIC centered around 'stay the course,'" said Lument's Kevin Oakley, a director based in the Southeast. "Occupancies are coming back, employee retention sounds to be settling down a bit, and now it's just a matter of controlling costs and correcting margins."
The mantra of "stay the course" was mentioned repeatedly during the conference, and those operators focused on improvements should be ready to commit for the long haul. As things might be tough for the next three to four years, operators should prepare for at least a 10-year commitment as well as substantial financial investments to succeed over the long term.
"The need to have staying power was definitely forefront during my conversations with operators at the NIC conference," noted Lument's Justin Elshire, a managing director based in Nashville. "Given the challenging economic climate, my suggestion to operators is to start with operating expenses and compare those year-over-year, then you can determine where the opportunity lies to improve performance from a margin standpoint, dig into the details, and strategize as to what you can do to mitigate any increases."
With the debt markets where they are, advancing fiscal objectives is daunting, therefore operators would be wise to look for savings and efficiencies wherever they can find them.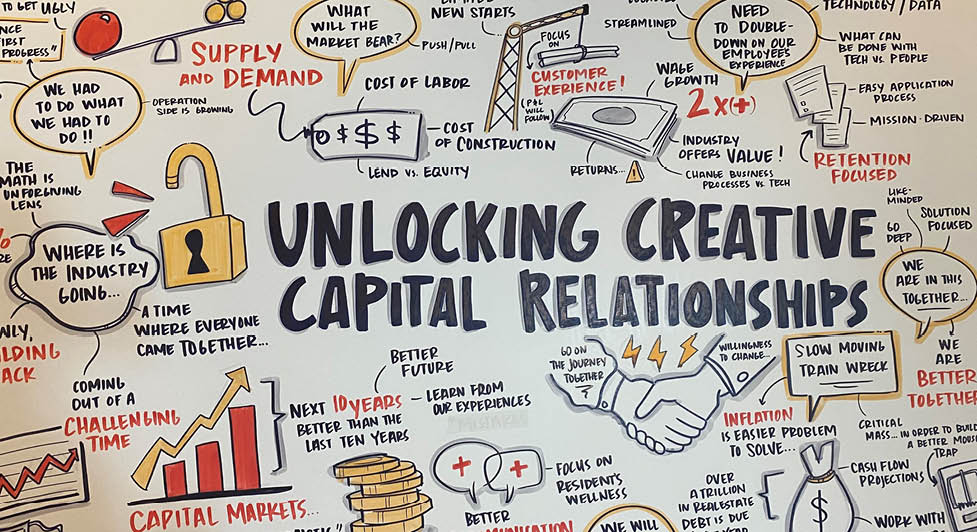 Fiscal Pain and the Absence of Volatility
When it comes to the dynamics of the debt and capital markets, it seems increasingly unlikely we will recover from this crisis with any velocity. However, a common sentiment throughout NIC sessions was that true to their nature, every cycle will eventually shift. That includes this one, although it will take some time.
"The notion that we'll have a quick snap back to low rates is slowly dissipating," added Oakley. "The focus is starting to shift to how to best structure and plan for the next one to three years and hope that rates do come down at some point relatively soon, as more of the market comes around to accepting 'higher for longer' as the most likely course for now."
The absence of volatility would also be a welcome development, NIC sessions made clear. Although there is still some concern the peak of high rates has not yet been reached, most agree we should soon be reaching a level of stability not seen in the last two years.
"Removing volatility from the equation will help get things moving," Oakley added. "In my discussions at NIC, a common sentiment was that we are settling into the current rate environment and owner-operators are getting more comfortable with finding ways to get their pipelines kicked off. In addition, upcoming maturities and the need for growth capital are also likely to spur more activity in the near term."
Elshire agreed. "The lack of perceived volatility and subsequent higher interest rate environment will create opportunities for those with large cash positions, strong investors, and/or proven profitability with these market headwinds," he said. "There will be an increase of opportunities over the coming 18 to 24 months and those with a proven ability to perform will attract investor funds to acquire new assets."
Going forward, despite the fiscal pain described during NIC sessions, prevailing sentiment was that there should be opportunities to restructure capital to help spur growth and provide comfort in the high-rate environment. It's just a matter of getting projects to stabilize at levels that support those needs, and with operations continuing to improve and occupancy rates climbing, stabilization seems increasingly feasible.
Staffing and Immigration Reform
In addition to the debt and capital difficulties owner-operators face, staffing remains a massive challenge as organizations search for ways to attract, develop, and retain quality employees. Sessions made it clear staffing woes continue to plague the industry, as a NIC survey found that 82% of C-suite respondents stated they do not have enough workers. With the staffing mandate looming, there is no doubt this issue will continue to be of great concern in the coming years.
During NIC's economic keynote session, Former Speaker of the House Paul Ryan broke down the staffing issue from a macro perspective and described how it is really an international issue that will take federal leadership to solve. Ryan argued that staffing is part of a larger economic problem that Congress will have no choice but to solve eventually. Citing a recent forecast by the Congressional Budget Office, he noted the U.S. economy is projected to grow at a rate of 1.3% the next 30 years, which is half of what it was for the past 30 years. Ryan attributes the decrease to one issue—labor supply.
Politically, immigration is one of the hardest issues to make progress on. However, an immigration reform package actually advancing and passing is feasible for one reason, Paul asserted: "It has to get done." The alternative is to keep cutting the workers who supply services to an aging population that is doubling in size over the coming years, which is simply unworkable.
Further, he believes that political arguments against immigration reform—such as it will take jobs away from Americans—are outdated because we have made advancements with guest worker and visa programs and can fill gaps in labor without taking away jobs or repressing wages. He noted that we successfully use visas to bring in software engineers and we could do the same with nurses. Not only will it help the senior living industry, but it is the only way to get our country back to 3% economic growth, he believes.
Perhaps the focus on the economics of growth can eventually lead to a bipartisan reform package that goes a long way toward alleviating staffing woes for all industries, but especially for seniors housing and healthcare organizations.
Emphasizing the Value
Moving from challenges to a reason for optimism, another theme that kept emerging during NIC sessions is the notion that a seniors housing and care community is really an affordable product. Setting the stage, a panelist from AARP cited that nine out of 10 people want to age in their home, but only 1% of housing has all the features people need to age well. Everyone says they want to age in place, but the reality is few are prepared to do so.
This gap presents a tremendous opportunity to emphasize the value of living in seniors housing—both from a financial perspective and the value of community and friendship. The industry has done a lot of work adding value in recent years, and now the overall costs are comparable to what one would pay living in a suburban home and replicating services.
The cost to live in a nice seniors housing community can be pricey, but a mortgage combined with various healthcare services can be pricier, with the differentiator being the companionship one enjoys at a community as opposed to living alone in a house. As an industry, it was agreed, we can do a better job of promoting both the financial and social benefits of aging in a community as opposed to aging in isolation.
As the conference wound down, one was left feeling relatively optimistic about the industry's prospects despite the very real fiscal challenges of today. Armed with lessons learned, resources gathered, and a fantastic long-term view, owner-operators continue to focus on the positives as they navigate the challenges of 2023 and prepare for 2024.