The year 2021 was supposed to be all about recovery for the healthcare market, especially for the seniors housing and skilled nursing sectors, and in many ways it was: facilities reopened, occupancy rates climbed, and processes were improved. The progress, however, was coupled with continued operating challenges as a result of the COVID-19 pandemic and the emergence of variants, as well as rising costs due to labor shortages—all of which have had a stalling effect on the industry's recovery. The outlook is complex and fluid, and to get a sense of where things are headed we take a look at recent market data to shed light on the past 12 months, identify trends, and provide a big picture analysis of what the industry looks like as 2022 unfolds.
Seniors Housing Occupancy Begins the Road to Recovery
Within the seniors housing sector, the occupancy rate reached an inflection point in 2021 and began rising from lows set in 2020. According to the National Investment Center for the Seniors Housing & Care Industry (NIC), the occupancy rate within primary and secondary markets rose from 80.8% at the end of 2020 to 81.6% in the fourth quarter of 2021 (Figure 1). Fueling the occupancy rate rise was record absorption (the change in occupied units) of over 24,000 units in 2021. While the occupancy rate is still low and has a way to go to reach pre-pandemic levels, the turnaround in 2021 was welcome news to many industry participants.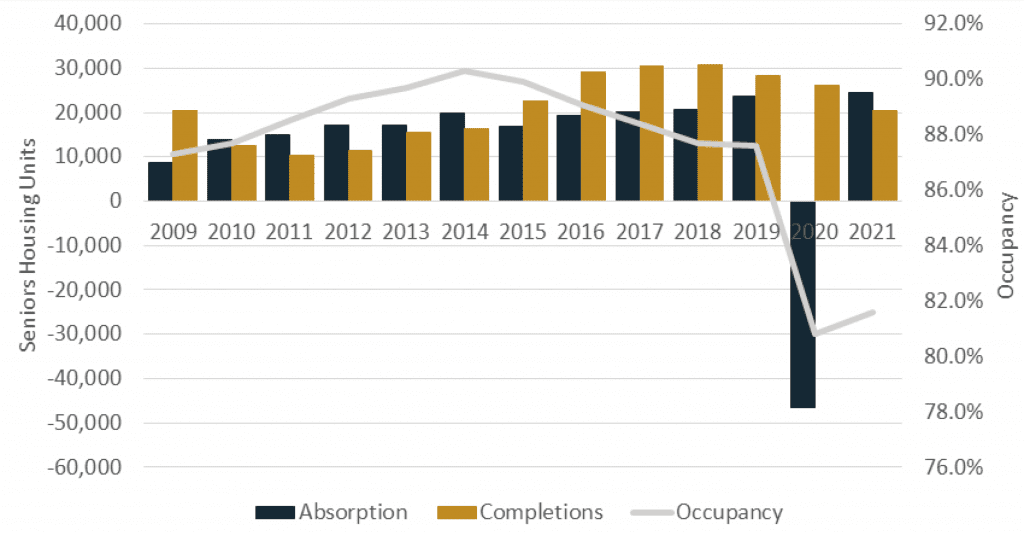 The turnaround in occupancy has been corroborated by recent developments from some of the most prominent industry participants. For example, Brookdale Senior Living reported in a December press release that it has seen nine straight months of occupancy gains through November of 2021. Likewise, Welltower filed a business update in November 2021 declaring its senior housing operating portfolio (SHOP) occupancy rose by 80 to 120 basis points (bps) per month during the second half of 2021. Welltower noted many bullish trends facing its portfolio and the seniors housing industry in general, such as rising occupancies, positive move-in trends, fewer expected forward seniors housing construction volume concerns, and the imminent accelerating growth rates of the 80+ population within the U.S. Ventas also reported a bullish case for their SHOP portfolio, as it issued a business update that reported its occupancy rate improved from 71.9% in 1Q21 to an expected 77.8% in 4Q21.
As 2022 progresses, we can expect further occupancy gains for seniors housing operators. The tailwinds noted above are imminent and substantial and should help mitigate continuing challenges posed by emerging COVID variants.
Average Monthly Rent and REVPOR Hold Steady
Average monthly rent (AMR), rent growth, revenue per occupied room (REVPOR), and REVPOR growth all performed well in 2021. NIC MAP data shows that AMR was $4,342 in 4Q21, up from $4,218 in 4Q20. In addition, year-over-year (YoY) rent growth accelerated in 4Q21 compared to 4Q20. Rent growth was 2.4% in 4Q21, a faster growth rate than the 1.7% posted in 4Q20. Corroborating that growth, BKD also reported improving REVPOR statistics, as its 3Q21 REVPOR was $5,222 and up 3.1% YoY. Conversely, Ventas's REVPOR was down 1.6% YoY in 3Q21, but it noted in its December business update that it expected enhanced pricing power moving forward.
AMR and REVPOR should continue to improve in 2022 as rising occupancy rates should provide operators with further pricing power.
Occupancy Rises Across Skilled Nursing
The skilled nursing sector also registered occupancy gains in 2021. Data from the American Healthcare Association (AHCA)/National Center for Assisted Living (NCAL) shows the average occupancy rate among 14,168 skilled nursing facilities (SNF) in the U.S. was 72.7% as of December 26, 2021. This figure was up from 69.9% one year ago.
Data from industry participants supports the SNF trends reported by AHCA/NCAL. The Ensign Group reported a 3Q21 same facility occupancy rate of 74.4%, up from 71.6% in 3Q20. Omega Healthcare Investors, the largest owner of SNFs in the U.S., reported 3Q21 occupancy of 82.2% compared to 74.2% in 3Q20, and its skilled mix improved from 33.5% to 36.4% during the same period. Sabra Health Care REIT, Inc. reported a 3Q21 occupancy rate of 71.1%, down from 80.0% in 3Q20. Sabra's SNF occupancy has been materially impacted by struggles reported as a result of a spike in COVID cases across Oregon, California, and Washington.
As we move into 2022, the skilled nursing sector should see further stabilization despite a continuingly challenging operating environment. In December 2021, the U.S. Department of Health and Human Services (HHS) began releasing Phase 4 of provider relief funds, which should help buoy SNF balance sheets, especially those smaller providers which may be experiencing the greatest operating challenges.
Challenges on the Labor Front
In addition to the issue of property performance, the seniors housing and care sector faces a separate but equally massive challenge in staffing. Many operators were reporting higher labor costs in 2021 due to a very competitive labor environment. In a sad and yet familiar tale, Care Trust REIT reported in its 3Q21 earnings call that several of its tenants reported turning some patients away simply because they lack the necessary staff to care for them. Virtually every REIT and publicly traded operator mentioned labor challenges during 2021. Data from the Bureau of Labor Statistics (BLS) (Figure 2) shows that assisted living and SNF wages grew in 2021 while the number of employees declined. In fact, from the period of December 2020 to November 2021, assisted living and nursing home wages were up 8% and 6%, respectively. During the same time, the total number of employees for assisted living fell by 2% while the number of nursing home employees fell by 6%. This has undoubtedly lead towards greater use of higher priced contract labor as new beds and units become occupied.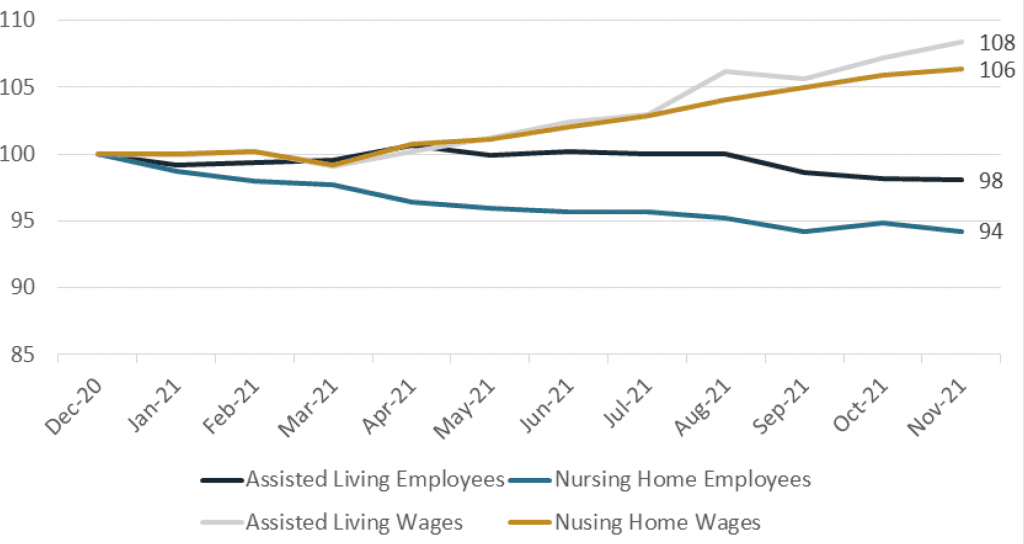 Transaction Volumes Pick Up
While transaction volumes pulled back in 2020 during the pandemic, they showed signs of returning to normal levels in 2021. The NIC/RCA Transactions Report shows that seniors housing transaction volume for the nine months ending September 30, 2021 was $10.1 billion, up 110% from the same period one year ago. For the SNF sector, transaction volume was $3.8 billion, up 81% from $2.1 billion one year ago.
The Healthcare REITs also report higher transaction volumes in 2021 compared to 2020. Welltower reported YTD 3Q21 total transaction volume of $4.1 billion, up 339% over the same period in 2020. Ventas reported YTD 2021 total volume of $3.5 billion through September 30, 2021, up from $1.2 billion from one year ago. Omega saw the greatest percentage increase in activity, with $820 million transacted through the first nine months of 2021.
Pricing Remains Strong
Ventas boasted the largest transaction of the year through 3Q21, acquiring New Senior Investment Group for $2.3 billion in September 2021. The transaction came with a 5.0% initial yield for Ventas. CareTrust reported its 2021 average initial yield was 7.3%, down from 8.9% in 2020. The NIC/RCA transaction report shows that the average trailing twelve months (TTM) seniors housing cap rate was 6.6% in 3Q21, compared to 6.4% in 3Q20.
We might expect cap rates to be choppy in 2022. There is plenty of capital chasing seniors housing and skilled nursing assets which should mitigate perceived risks. Interest rates, which are forecast to rise in 2022, may impact exit cap rate expectations and the price investors are ultimately willing to pay for assets.
Those best positioned for success will be sure to stay on top of emerging trends throughout 2022 and collaborate with experienced partners to take advantage of market opportunities and navigate around potential risks.