In the newest installment of their annual collaboration, Lument and Senior Housing News recently published the 2023 Senior Housing Outlook Report, an informative peek into the minds of seniors housing and care leaders nationwide. Approximately 225 industry professionals responded to this year's survey, conducted from October through December of 2022, sharing their views on the state of the sector, its challenges, opportunities, and prospects moving forward.
Survey results depict an industry optimistic about its future, buoyed by strong demographics and resilient industry players adept at navigating difficult environments. A strong majority of respondents (79 percent) indicated their outlook was either somewhat positive or very positive, with a majority also predicting rising occupancy rates over the next 12 months – validating the notion that the industry's long-term outlook remains favorable.
Despite that long-term prognosis for prosperity, the sector faces enormous challenges in the immediate future, as rising interest rates, staffing woes, and portfolio restructurings all take their toll on an already-battered industry. To no one's surprise, staffing continues to be the greatest challenge, as indicated by 62 percent of respondents.
Throughout this year's Outlook Report, that parallel narrative is at play, as industry participants look to balance short-term challenges and long-term solutions. Survey results portray owner/operators doing their best to stay afloat during this tough economic stretch, knowing that the need for their business will be growing in the coming years and a full post-pandemic recovery is in sight.
All Eyes on Occupancy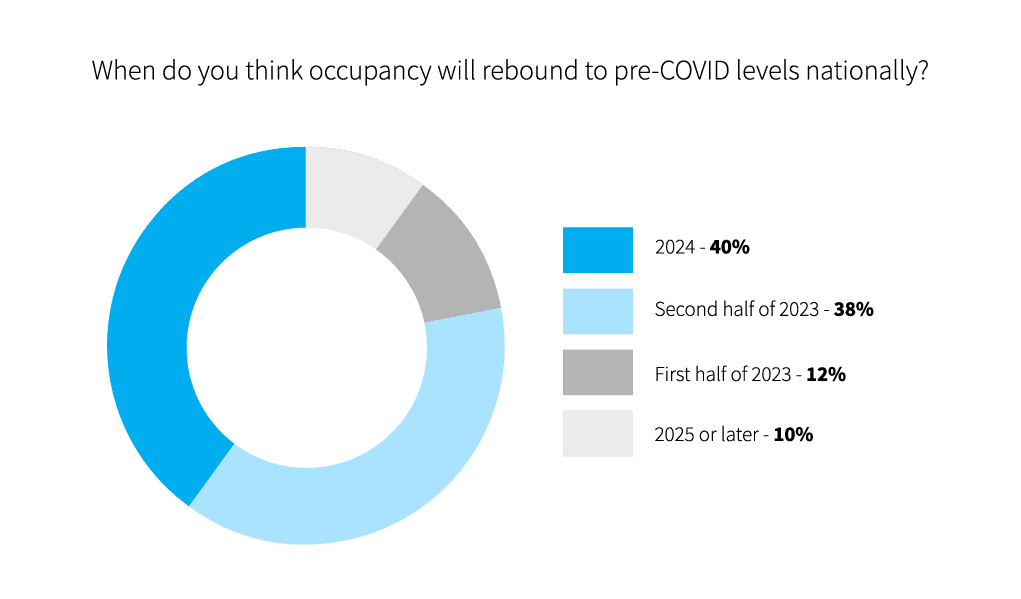 Occupancy rates continue to be watched closely, as most survey respondents expect rates to return to pre-pandemic levels, but with varying views on how long that may take. In last year's survey, 78 percent of respondents indicated strong confidence that occupancy rates would return to pre-COVID levels between the second half of 2022 and the end of 2023 (Figure 1). This year's results show that the challenges of 2022 may have extended that timeline, as 78 percent of respondents indicated they expect occupancy levels to reach pre-COVID levels between the second half of 2023 and 2024. It should be interesting to see how survey respondents feel next year about this question and if another extension is in the cards.
Breaking it down by asset class, participants were most confident about occupancy rates increasing for memory care and assisted living, followed by active adult and independent living, consistent with the previous year's results. Despite the progress, increasing occupancy remains a top concern for owner/operators, as the issue ranked second to staffing in terms of the biggest pain point for survey respondents.
Active M&A Market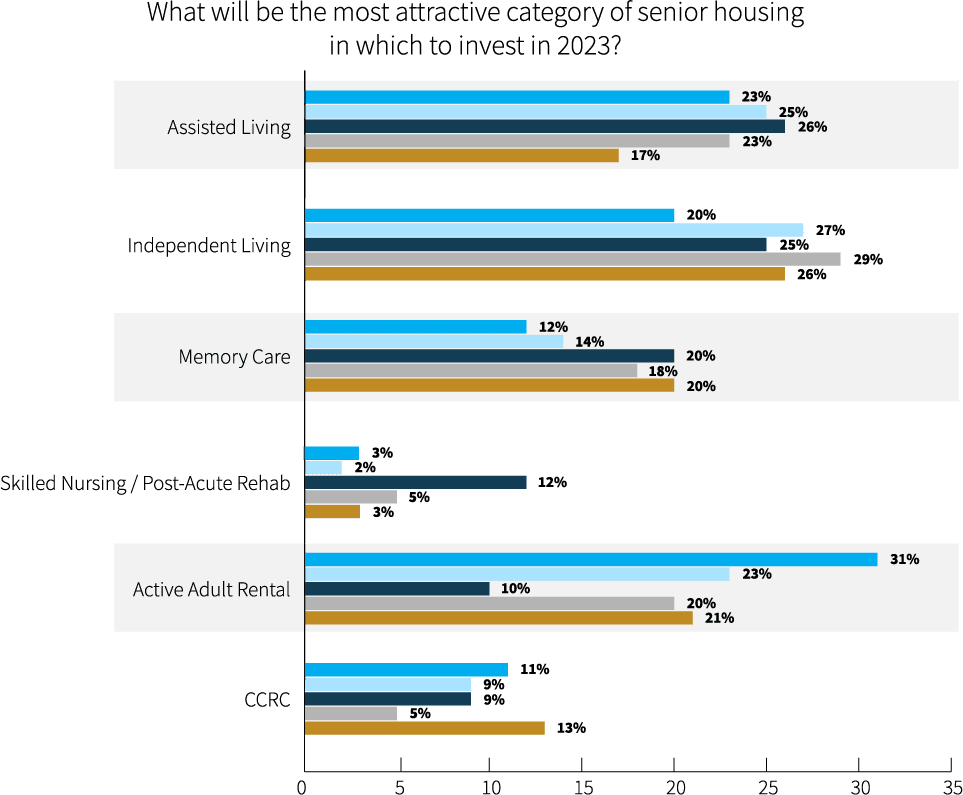 Survey respondents forecast a busy year ahead for the mergers and acquisitions (M&A) market, as nearly half (48 percent) said their organizations have intentions of purchasing seniors housing and care assets in 2023. When asked about the primary growth strategy for 2023, 21 percent answered with M&A activity, an increase from 12 percent in 2022, further suggesting the M&A market may be especially active this year.
In one sense, the fact that these findings indicate increased acquisition activity in 2023 could be considered surprising. Even though there is clearly ample capital on the sidelines looking to invest, the fact that capital costs have increased substantially and margins have been compressed due to inflationary pressures would seem to point to some degree of divergence between seller and buyer expectations, mostly in favor of buyers. How this dynamic plays out throughout the year will no doubt be interesting to watch.
As for the most attractive segments for investors, active adult, assisted living, and independent living topped the list (Figure 2). The active adult segment continues to increase its share of the market in respondents' eyes, as 31 percent voted it the most attractive category this year, as compared to 23 percent last year and 10 percent in 2021.
In terms of asset valuations, the market disruption of the past year has clearly influenced respondents' feedback, as 41 percent predict valuations will fall in 2023 (Figure 3). When asked this question last year, only 14 percent thought valuations would fall in 2022.
Plans for the New Year
Will owner/operators be pursuing new construction projects in 2023? Survey respondents seem to think so, as 26 predict an increase in construction starts as compared to only nine percent who predicted an increase last year. Likewise, 23 percent of respondents indicated that their top growth strategy for the year is to build. Those not interested in new construction will perhaps instead focus on renovating existing assets, as the most popular growth strategy among survey respondents was repositioning facilities.
Other topics queried in the survey include strategies to address the middle-market shortage, top financing sources sought, the impact of rising interest rates, and more. To read the complete survey results, download the ebook below.
Download Report