Lument recently partnered with Senior Housing News for its "2021 Senior Housing Outlook Report," an informative peak into the minds of senior housing leaders nationwide. Nearly 600 respondents shared their thoughts on investing in the year ahead, when they expect occupancy to rebound, growth opportunities in 2021, and ways in which year two of the COVID-19 pandemic will challenge an already-stressed industry. Perhaps the most striking survey result was the pulse of positivity found throughout the responses. After what was surely the most difficult year the industry has faced in modern times, survey responses clearly depict an industry working hard and preparing for a brighter future ahead.
COVID-19 IMPACT
When will national occupancy rates return to pre-COVID-19 levels? That question continues to hover over the industry, with the vaccine rollout providing hope that a return-to-normal date is not too far in the future. Nearly half of survey respondents expect occupancy to rise in the second half of 2021 (49%), with 33% expecting the rebound to occur in 2022. When separated by asset class, 58% expect occupancy rates to rise for independent living (IL), 56% expect a rise for memory care (MC) and 46% expect an increase for assisted living (AL). Clearly the past year has seen a lot of seniors on the lower end of the acuity spectrum postpone moving into an IL or AL community, as those that could wait did so, causing occupancy rates to drop. The hope, reflected in the survey responses, is that as the vaccine rollout progresses and new cases drop, seniors will be comfortable making the move and occupancy rates will rise accordingly.
In terms of the expense category most likely to balloon due to the pandemic, respondents chose sales and marketing at 30%, followed by staffing at 26% and testing at 16% (Figure 1). Increased costs in those categories are necessary as communities look to create safe and healthy environments. Preventing outbreaks and promoting that success can be a powerful selling point for potential residents and employees.
Figure 1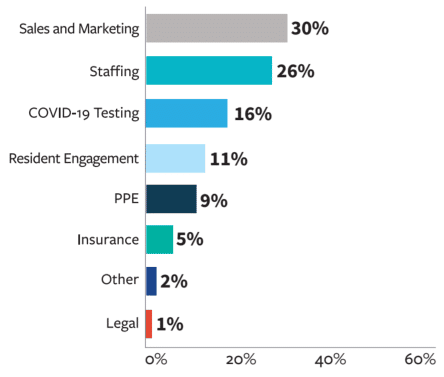 The uncertainty surrounding COVID-19 likely led to a sharp increase in the percentage of respondents that plan to sell seniors housing assets, as that figure rose to 26%, up from 17% in 2020 and 7% in 2019 (Figure 2). Although operators likely did not want to sell at a low during the initial wave of pandemic disruption, they might be looking for an exit as operations stabilize in 2021.
Figure 2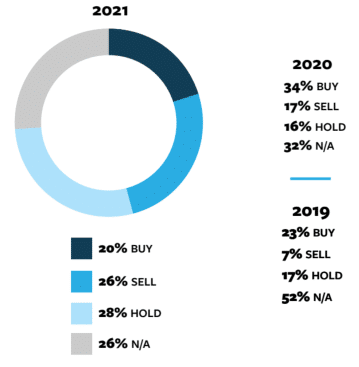 In a business that gets more difficult each year, this might be the time for smaller players to exit, with regional operators and private real estate investment trusts (REITs) likely to step up as buyers. In previous years, private equity was the top choice among survey respondents in terms of acquisitions, but that percentage fell from 38% in 2020 to 20% in 2021 (Figure 3).
Figure 3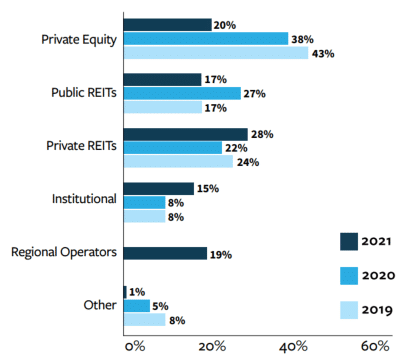 For new construction starts, a plurality of respondents (44%) expect construction to increase, as projects that were paused due to COVID-19 rev back up. Accordingly, new construction is also the top growth strategy for respondents at 32%, with mergers and acquisitions (M&A) second at 27%.
STAFFING CHALLENGES PERSIST
Aside from COVID-19, the most pressing challenge for respondents continues to be staffing, with 28% reporting it the top concern. With recruitment challenges, hero pay, vaccine incentives and the prospect of a $15 minimum wage at play, the importance of getting the staffing issue right is only getting more pronounced. Hourly rates for assisted living certified nurse aides (CNAs) increased by 5.7% in 2020, according to the Hospital & Healthcare Compensation Service (HCS). Turnover also increased substantially last year, as the rate for all employees went from 44% in 2019 to 53% in 2020. What was an already a difficult occupation only got more difficult, and paying these workers what they undoubtedly deserve without disrupting the bottom line will continue to be a massive challenge going forward.
ACTIVE ADULT UNCERTAINTY
In regard to the most attractive category of senior housing in which to invest, the most notable change was the drop in respondents who selected active adult, which went from 20% in 2020 to 10% in 2021.
Since active adult is still a relatively new category, there appears to be some uncertainty regarding its development, despite the obvious need for IL options that do not include added care expenses. As the industry begins to figure out what that segment looks like (i.e., unit count, ideal markets, amenity blend, etc.), that percentage will almost certainly go back up.
MARKET RATE TO MIDDLE MARKET
The middle market conundrum continues to be a top of mind issue for the industry, as the shortage of affordable options for middle-income seniors remains a glaring problem. According to NIC data, 54% of middle-income seniors will not have sufficient resources to pay for housing and care by 2029. Out of the different approaches available to address the dire situation, respondents selected repositioning market-rate assets as the most popular, followed by redeploying capital into existing middle-market communities (Figure 4).
Figure 4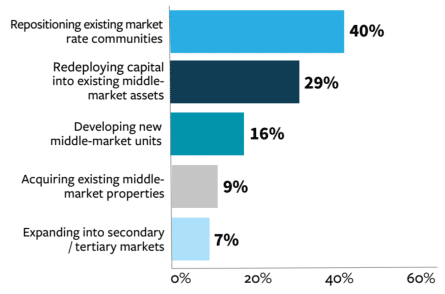 VALUATION OUTLOOK MIXED
Making broad generalizations about valuations is tricky even in normal times, but even more so in our current environment. Those in the industry likely have heard some version of the refrain: "if you've seen one seniors housing community, you've seen one seniors housing community." That community-specific sentiment came across in survey responses, as there was a fairly even split between those who thought valuations would rise (41%), those that thought they would fall (36%), and those who expect them to stay them to remain stable (24%).
As the vaccine rollout progresses and the cold winter begins to thaw, those in the industry hope that brighter days are ahead. This industry is as resilient as they come, and it is with confidence that we project next year's survey results will carry a theme of recovery and optimism.