Len Brannen, president of Shelter Resources, Inc. (SRI), has never been slow to act on an opportunity or to create opportunities of his own. He started out 40 years ago building affordable housing for the U.S. Department of Agriculture Rural Development program. As the portfolio grew, he didn't hesitate to branch out into seniors and veterans housing, explore new sources of financing including low-income housing tax credits (LIHTC) and tax-exempt bonds, and set up shop in new areas of the country. Although SRI's home base is the Pacific Northwest, the company recently established a Southeast affiliate, Blue Ridge Atlantic Development (BRAD), in Wilmington, North Carolina.
"Markets change over time," Brannen says. "To be successful, you have to change with them — and when that's not possible, find new ones." This is a formula that clearly works for the company. Since its founding in 1980, SRI has developed almost 150 communities with more than 6,000 affordable housing units, more than any other affordable development company based in the Northwest.
Brannen invited two members of his executive team, Director of Asset Management and Developer Matt Chantry and Director of Acquisitions Corey Baldwin, to join him in discussing the company with us. The conversation covered a range of topics, including the key to sustaining an entrepreneurial culture over the long term, the challenges of managing through the pandemic, and the prospects for affordable housing over the coming decade.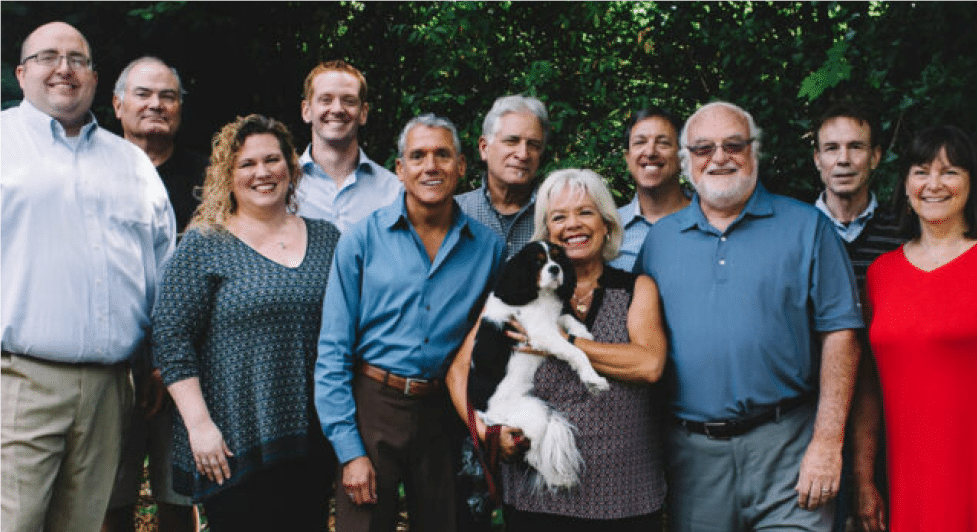 Entrepreneurial is a word that is often used indiscriminately, but I think it can be legitimately ascribed to SRI. Over and over in the course of your history, you've always seemed willing to try something new.
Len: That's right. When LIHTCs were introduced, we were one of the first in Washington State to structure transactions around them. And when it became difficult to secure sufficient tax credits in Washington and Oregon for the kind of projects we like to do, we moved on to tax-exempt bond funding, which has the advantage of supporting larger transactions.
At the same time, some of our initiatives may have been a little ahead of their time. For instance, we experimented with congregate housing for seniors, addressing the void in the marketplace for those who can afford between $1,000 and $2,500 a month. We took advantage of IRS private letter rulings and LIHTCs to develop what we call affordable independent living communities.
Right now, they are almost impossible to finance — but the need will only become more pressing over the next decade as the baby boomers age. We hope that our model may ultimately serve as a template for making this form of housing more widely available.
Matt: BRAD, our new affiliate in North Carolina, is the latest example of our entrepreneurial spirit. It has already created new opportunities. At the end of 2019, BRAD purchased a 240-unit property in Houston, which will be a preservation play in the next year or two. We just broke ground on a 188-unit affordable community outside Atlanta that we financed with tax-exempt bonds. By taking a risk, we are now in two of the nation's best marketplaces.
Is there a secret to sustaining this level of adventurousness over four decades?
Len: Speaking as the oldest person in the room, I think our primary strength has been our ability to attract energetic young talent and tap the expertise of our partners.
Corey: I think it's important to stress that we have been able to bring smart, ambitious new people on board because Len has created a culture that values creativity. If we propose a transaction to investors or partners that doesn't work for them, we listen, regroup, and tackle it from an angle that might work better. In essence, we have a license to learn new things and think outside of the box. If you are not open and nimble in this environment, you'll die on the vine.
In addition, we view relationships as one of the fundamentals of our success as a company. We have a long history with many of our partners, and the strength of these relationships benefits us in many ways. We can count on our counterparts to go the extra mile when challenges arise during the course of a transaction. Their experience, dedication, and loyalty make an enormous difference.
With the incredible range of products you use to finance your deals, having the right lender must be incredibly important.
Corey: Exactly. That's why we have repeatedly turned to Suzie Cope's team at Lument. Affordable housing transactions have a lot of moving parts, and she's the best we have run across when it comes to knowledge and creativity. We can go to her with an idea about a transaction, and she'll come back with three or four different financing approaches, each of which might provide benefits we hadn't considered.
Matt: We also value Lument's responsive and transparent communication. Suzie knows how important timing is, especially on the front end when you are competing against other buyers and it's essential to get your financing tied down. In addition, thanks to her experience, she has an excellent sense of what will fly with the agencies and what won't.
Len: Suzie is a great partner for us because she too values relationships. Because of her exposure to the greater marketplace, she can and does bring us ideas that other people in the industry have used successfully. And even when she is not the lender on a transaction, she is more than willing to serve as a sounding board. That level of commitment, combined with her expertise, is important to us.
Given the diversity of your portfolio, how have you faced the challenge of managing through the pandemic?
Len: The first thing to stress is that we are adhering to all CDC and state guidelines and are being particularly conservative, especially in our senior communities. We have imposed restrictive visitor policies and deployed security personnel to enforce them and take the temperature of everyone entering the buildings.
Matt: We are also trying to limit exposure for our staff. Generally speaking, our management companies are keeping their offices open but are seeing tenants only by appointment. And they are trying to be discriminating about maintenance requests, focusing on issues that need to be addressed immediately.
In this environment, rent collections are a concern, though the situation varies from community to community. Our rents have held up reasonably well, thanks in part to the government stimulus, but we are naturally anxious about the future. At the same time, we are insulated from this issue to the extent that some of our communities have direct rental assistance — and employment tends not to be a factor at our senior communities.
Has the pandemic put a crimp on your investment activities?
Corey: Not at all. We always have properties that we are pursuing. For instance, we are firming up financing on a 300-unit project in Seattle and going through the permitting process. We are also refinancing a few projects to take advantage of extremely low interest rates. And there are communities like the one outside of Atlanta that we are developing. We have an 18-month construction timeline, which means that by the time it's leased up, COVID-19 should be behind us.
Len: From where I sit, the real difficulty for developers is the buyers' expectations for a quick close. When you are competing with yield investors, you need to be able to come to the table, put up serious dollars upfront, and commit to closing the project between 60 and 90 days. Most affordable players using tax-exempt financing have a timetable that is more like six to nine months. We have formed partnerships with institutional investors who work with us to purchase assets, giving us enough time to move it to a tax-exempt bond execution or resyndication.
What's your view of the outlook for affordable housing post-pandemic?
Len: We are cautiously optimistic going forward. Affordable housing is such a focus for so many communities and governments that we feel the momentum for constructive legislation is really strong. New funding and favorable tax treatment should create a host of opportunities in the next 10 years.
Corey: It would only take a few tweaks to increase the amount of volume that could be done without creating a whole lot of new subsidies.
Len: Being in this industry is a great source of satisfaction for us all. We care about the quality of our products and the impact we can have on society and the tenants we serve. When we drive by one of our communities, we want to feel proud.
Matt: The fantastic part of this business is not just that it is interesting and challenging work, but that you get to feel really good about providing solid affordable housing to people who need it.