Grundy County Memorial Hospital (GCMH), located in Grundy Center, Iowa, some 85 miles northeast of Des Moines, isn't just a center of medical excellence–it's a point of pride and a touchstone for the nine rural communities that surround it. In 2021, for the thirteenth consecutive year, GCMH ranked among the top five percent of hospitals nationwide for patient experience, as measured by patient satisfaction surveys administered by hospital consulting firm Press Ganey. 
"I'm amazed by the people who work here," says Adam Scherling, the administrator at GCMH since 2018. "For our team members, it's more than just a job. They're typically caring for their neighbor, or family member–and if not, it's a neighbor or family member of a coworker. For that reason, it's a different level of accountability and responsibility, which is what makes GCMH such a unique place."
Having first opened its doors in 1952 as a 38-bed Veterans Memorial Hospital, GCMH has expanded steadily in the last 70 years. In late June 2022, the hospital broke ground on its latest addition: a 35,000-square-foot expansion of the hospital's surgery and radiology departments, as well as a renovation of existing lab office and corridor spaces, with completion planned for late 2023. The financing for the $42 million project–which included a $24.3 million U.S. Department of Agriculture (USDA) Community Facilities program direct loan and a $6.2 million tax-exempt revenue note–was completed in less than a year, despite a difficult lending landscape that included rising construction costs and interest rates.
Scherling sat down with Lument to talk about how the renovation will help GCMH further optimize patient care, and how the hospital managed to navigate the financing process on a tight deadline amid the COVID-19 pandemic.
Lument: Can you describe Grundy County Memorial Hospital, its mission, and what sets it apart from other hospitals?
Scherling: Grundy County Memorial Hospital is a 25-bed critical access hospital, which means we provide 24/7/365 emergency care to the residents of the rural communities we serve.
Our mission at GCMH is to improve the health of the people in the communities that we serve, and our vision is really driven by the idea of the best outcome for every patient, every time.
Beyond our team members and medical staff, our other stakeholders also make our organization so successful–our board, the county supervisors, and our foundation, through which you really get to see just how engaged our community really is. We have two large annual fundraisers that each net between 250 to 300 individuals, and they're by far the most talked-about events here in rural Iowa. It's neat to see how the communities around Grundy County really support our mission and vision.
Lument: While the genesis of this project began in 2018, did the COVID-19 pandemic ultimately inform the scope of the renovation, or underscore ways that the hospital could further improve to serve the surrounding community?
Scherling: Yes and no. A lot of the catalysts for some of the areas we wanted to focus on with this specific project–namely our surgery and radiology departments–were areas of need that weren't pandemic-related.
But it's fair to say that through the course of the pandemic, while we were in our design phase, it definitely altered our approach from a master facility plan perspective, both within and outside these respective areas. In 2019, for example, we were discussing how we could make better use of our medical surgical unit, because we typically had a lower census and there was a lot of capacity from a facility perspective that wasn't being utilized. Then, when we received a surge of patients during the pandemic, our community and board recognized just how important it is that we do have a very robust and capable medical surgical unit.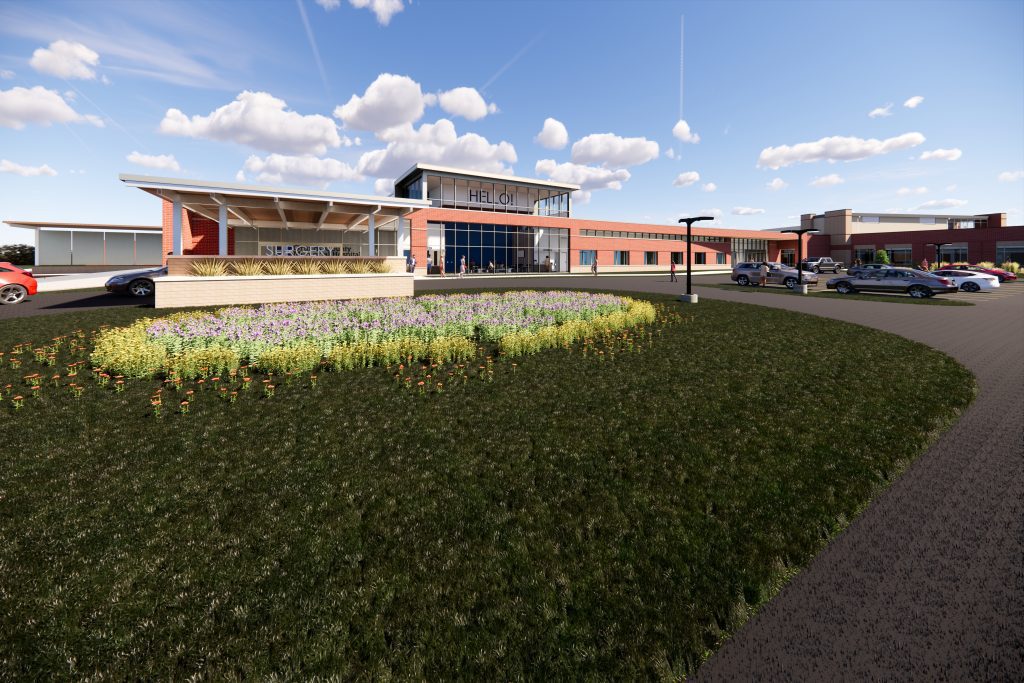 Lument: Can you detail some of the goals and benefits of the expansion?
Scherling: The purpose of this project was to modernize parts of our hospital that in some areas date back to the 1970s in terms of facility and infrastructure and bring them up to today's standards from a technology, medical equipment, and facility perspective. Ultimately, our focus was on how we could leverage the facility to improve patient and team member workflows in the interest of really improving the patient experience at GCMH.
We've had a lot of challenges in our surgery department from an infrastructure perspective. From an infection prevention standpoint, it's critical that operating rooms are climate controlled–something we've admittedly had challenges with which has led to operating room downtime because of the age of our facility. Size and space are the other big components. We're bringing our pre- and post-surgery exam rooms up to current code and making them a lot larger, so family and friends can join their loved ones there. We're also adding a new operating room–currently we have one–to allow for greater efficiencies for visiting surgeons who will no longer have to wait for room turnover between cases. They will be able to bounce back and forth between operating rooms, while staff clean the other room and prepare the next case. The new facility will also ensure that we have the capacity to accommodate future growth as we offer additional surgical services.
Radiology is another big department that's impacted by this project. Currently we have a mobile MRI unit. Given the unknowns that come with Midwest winters, bringing patients outside in inclement weather for an MRI is not in keeping with the standards to which we hold ourselves. We're happy that this project will bring that MRI unit in-house–which has been part of our strategic plan for many years–where it'll be climate-controlled year-round and offer a much better experience for our patients.
This investment will also benefit our lab department. The dramatic increase in COVID testing throughout the pandemic required us to essentially double the size of our lab to accommodate all the new equipment. We're also adding three private rooms, whereas now we have two chairs separated by a curtain. Again, we're trying to really focus on facility improvements that reinforce the rich history of patient experience and privacy here at GCMH.
Lument: How would you characterize the experience of working with Lument to secure the financing for this project?
Scherling: This is the first time we've engaged USDA Rural Development from a borrowing perspective. Very early on in the process–once we recognized how attractive this financing vehicle really was–we realized that not only were we having to manage a pandemic along with day-to-day operations, but we also didn't have the experience or capability internally to navigate the USDA application process. Lument came very highly recommended from peers and other critical access hospitals in Iowa, and I feel very fortunate that they were able to fit us into their queue.
Adam Walter and his team were great to work with–I think their expertise and experiences working on similar USDA projects was invaluable to our own experience and process. They did a phenomenal job project managing and keeping things on track and within the schedule that we laid out. If not for Lument, I can say with confidence this process would have taken much longer and experienced many more challenges.
Lument's advice around how best to utilize our resources with this specific project was also invaluable. At GCMH we're fortunate to have a very healthy balance sheet, so we had ample equity contributed toward this project. Strategic discussions with Lument helped us come up with the right plan regarding how much equity we should contribute–$11.5 million–while mitigating risk for sustainability in this environment and taking advantage of record-low interest rates through the USDA. Lument's advisement and collaboration throughout that entire process was really second to none.