Enhancing the lives of seniors by providing quality, affordable care across the acuity spectrum has been a shared mission in the senior living industry for centuries. In Omaha, Nebraska, one successful nonprofit organization has been fulfilling that mission for the last 114 years, to be exact, and is well-positioned to continue that success. Below, we detail how Royale Oaks and House of Hope assisted living (AL), along with its affiliated communities, recently completed the final phase of a favorable and creative permanent financing structure that began in 2003.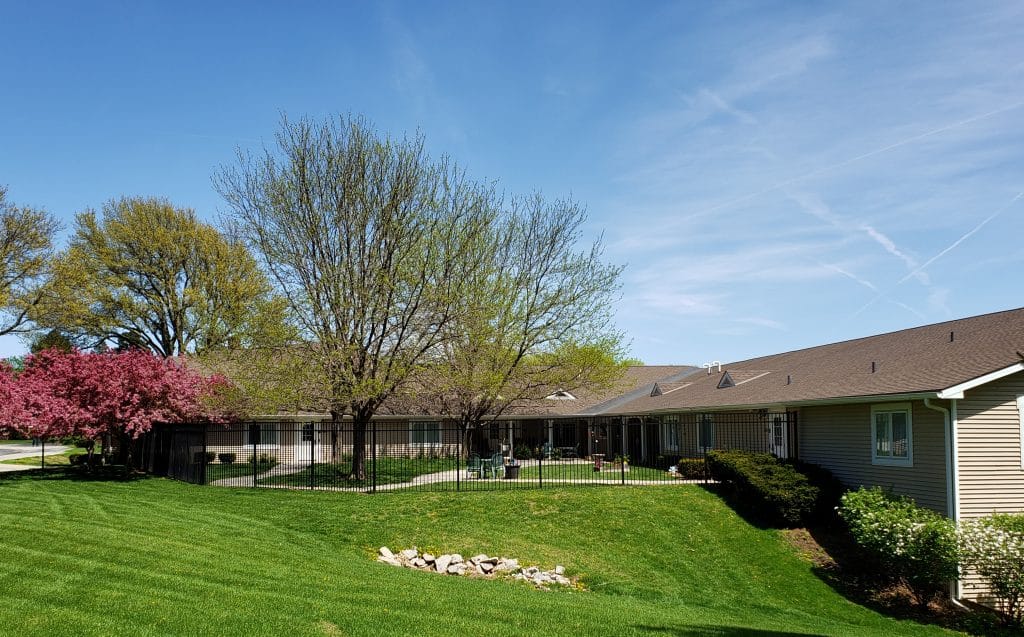 Hope's History
The original House of Hope was founded in 1906 in a house with a few bedrooms available for the elderly. The organization has grown significantly since its origin, and currently includes two AL communities (Royale Oaks and House of Hope), a skilled nursing facility (SNF) named Florence Home Healthcare Center, a senior housing management company (Midwest Geriatrics, Inc.) and an in-house long-term care pharmacy (Gerimed, Inc.).
The original portion of the Royale Oaks campus was built in 1947 and then remodeled in 1990. The two-story, brick building consists of 41 AL units and has a prime location in Omaha close to local shops, dining and other amenities. The community is designed to be relaxing and therapeutic from the moment guests walk in the door, as a grand piano adorns the entrance and serves as a conduit for friendly socialization. Therapy, in fact, is a central theme at Royale Oaks, as staff pride themselves on providing therapy to residents in a variety of forms—physical, emotional and spiritual. Some residents find relaxation in the sunroom, some find spiritual renewal in the chapel, and others enjoy socializing in the living room. No matter the specific setting or preferred activity, staff at Royale Oaks go out of their way to make the community feel like home to all its residents.
Royale Oaks is part of a group of communities that comprise the complete continuum of care, as residents benefit from the ability to use services provided in an adjacent building known as House of Hope. House of Hope Alzheimer's Care Assisted Living, added in 2003, includes 42 AL units and shares a 50,000 square foot building with House of Hope Assisted Living. These two care settings are distinctly separate from each other yet share the architecture and design of a modern home. The campus consists of six neighborhoods, four of which are dedicated to memory care, with 10 to 11 private apartments at each. Comforting amenities are ample, as residents have access to a kitchen, family-style dining room, washer/dryer, whirlpool bath, full social calendar and a private gazebo.
On the care side, House of Hope offers what it calls the Vigil Dementia Monitoring System, which calls for assistance when residents are unable to act. What differentiates the system is the fact that it is all done through sensors, meaning there is nothing for the resident to wear, which has been shown to preserve dignity and increase staff effectiveness.
Located just a short drive away is Florence Home Healthcare Center, which consists of 126 beds and offers skilled nursing and rehabilitation services. Physical, occupational, and speech/language therapists work on-site to provide rehabilitative care to residents. On average, 50% of Florence's population successfully rehabs and transfers to a more independent level of care. Florence Home also offers a respite care program that offers all the benefits of a skilled nursing stay but for just a few days at a time.
Setting the PACE
Royale Oaks' mission is to inspire the individuals they serve to live life to the fullest. Dignified service to others is paramount to its success. Residents come from all walks of life and many are Medicaid-Waiver recipients and participants in the regional Program of All-Inclusive Care for the Elderly (PACE). PACE provides medical and social services to seniors through a team of health care professionals delivering the coordinated care necessary to improve and maintain good health. This can include prescription drugs, doctor or health care provider visits, transportation, home care, hospital visits and even nursing home stays.
Financing Solutions
Clearly, all the components that make up Royale Oaks, House of Hope and its wide array of services work in an effective and efficient harmony, providing high-quality housing and care to individuals across the acuity spectrum. To ensure that success continues, the organization has implemented a favorable and creative permanent financing structure with a process that began nearly two decades ago.
Working with Lancaster Pollard in 2003, the organization put in place tax-exempt bonds to refinance Florence Home's debt and fund the construction of the then-new House of Hope AL and Alzheimer's Care. In 2007, the tax-exempt debt was refinanced with two issues, as approximately $7 million associated with Royale Oaks was refinanced with a HUD-insured loan. HUD's non-recourse structure allowed Florence Home, as well as the other associated businesses, to refinance separately with a commercial bank while also keeping board-designated cash and investments unrestricted.
Fast forward to 2020, and the organization sought a financing solution that would provide funds for anticipated heating, ventilation, and air conditioning (HVAC) repairs, as well as help address the ongoing challenge of funding operations with limited Medicaid-Waiver and PACE reimbursements. Lancaster Pollard, now known as Lument, pursued a streamlined FHA Sec. 223(a)(7) application process to achieve Royale Oak's financing goals. The FHA Sec. 223(a)(7) program is ideal for borrowers that already have a HUD-insured loan and would like to borrow additional funds for renovations.
"We've been proud to partner with an esteemed organization like Royale Oaks for many years, and this most recent financing was truly a team effort," said Bill Wilson, managing director at Lument. "From our thorough underwriting team, to our dedicated insurance department, and finally to our trading desk's placement of the Ginnie Mae securities, this closing was a perfect example of Lument's dedication to providing customized solutions for our clients."
The new $6.8 million loan insured by the FHA Sec. 223(a)(7) program reduced Royale Oak's interest rate from 4.29% to 2.49%, generating $72,000 of annual debt service savings. In addition, the new loan included more than $550,000 in capital cost reimbursement and additional replacement reserves.
"The creative financing solutions provided by Lument allow us to realign our resources for the betterment of our residents and communities," said Debra Thacker, chief financial officer (CFO), Midwest Geriatrics, Inc., which manages Royale Oaks and the affiliated communities. "As a nonprofit, we use every dollar to fulfill our mission—improve lives and inspire our residents to live life to the fullest."
Continuous success as a complete continuum of care provider is no easy feat. From daily operational challenges to extreme disruptions like COVID-19, the task is simply herculean. With a dedicated staff, focused mission, track record of achievement and favorable financing structure in place, Royale Oaks and House of Hope appear in a good position to ensure their admirable success continues well into the future.
Subscribe