Dedicated to providing families in Northwest Iowa with quality healthcare services, Sioux Center Health is a faith-based, nonprofit health ministry and state-of-the-art hospital and medical clinic. It offers a wide array of services in a safe and healing environment guided by the organization's mission to bring hope, health and healing to life.
Staff at Sioux Center Health believe that care is multi-faceted and requires attention to physical, emotional and spiritual wellbeing. Its services extend beyond nursing and doctoring and capture other important components of healthcare, such as therapy and counseling. The organization instills in its employees the notion that every patient, resident and community member is one that is loved and that is entrusted to them, and they consider that an honor.
Sioux Center Health is a vital provider of healthcare services to the citizens of Sioux County, Iowa, and in recent years the business grew dramatically while the physical location stayed the same size. As such, leadership began an expansion project to ensure the needs of its patients were met across the entire acuity and affordability spectrum.
"Sioux Center is a growing, vibrant community encompassing residents across the entire lifespan," said Cory Nelson, chief executive officer at Sioux Center Health. "One reason the community is so vibrant and continues to grow is that the people stay in our community, invest in our community, and remain connected to the community throughout their entire lives."
That sense of community is an essential aspect of Sioux Center Health's mission, as the building project was designed to meet the needs and desires of the area's aging population. By offering the complete continuum of services, from independent and assisted living (AL) to long-term intermediate, skilled nursing care, hospice and home care, the organization and its approximately 500 employees are clearly dedicated to serving their residents at the level of care required to enrich their life, no matter the stage.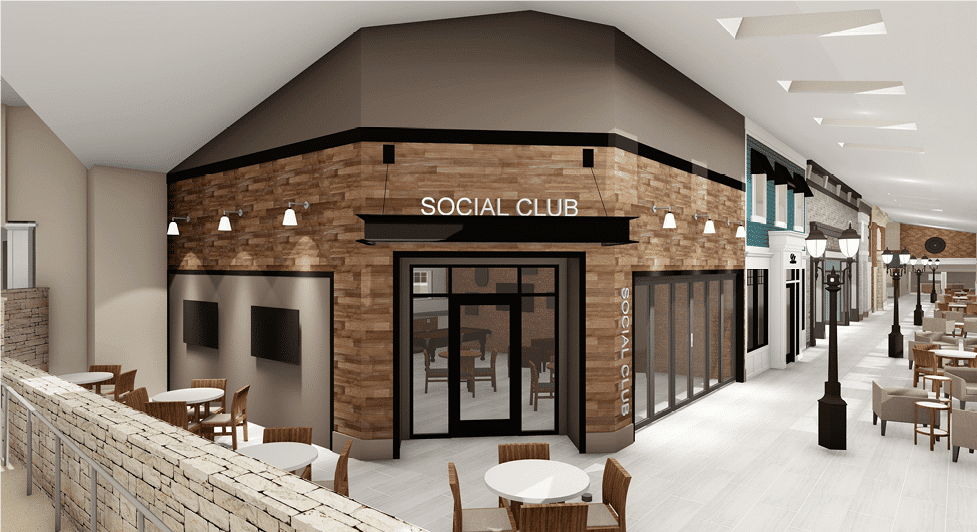 EXPANSION PROJECT BEGINS
In 2019, Sioux Center Health was operating at full capacity and it became clear that space deficiencies were limiting the organization's ability to provide needed healthcare services to the community. Additional clinics and expanded seniors housing and care services, were identified as the key elements needed to truly meet the healthcare needs of its community, particularly its aging population.
An expansion project was initiated which consisted of two main parts—the hospital and clinic expansion and the senior living services expansion. The former included adding square footage to the existing clinic to accommodate the expanding family practice. The latter included adding square footage to the existing skilled nursing and AL communities, specifically a 32-unit skilled care wing and 40-unit AL and memory care (MC) addition. Further, the project included a new senior services entrance and main street concept with a café, salon, post office and other retail and amenities.
FINANCING SOLUTION
Sioux Center Health was seeking a total of $35.9 million in financing for the expansion project, with approximately 80 percent of that coming from debt financing and 20 percent coming from equity and community fundraising. The organization engaged Lument to obtain the debt financing and manage the USDA application process.
Right away, it was clear that Sioux Center Health was a strong candidate for the U.S. Department of Agriculture (USDA) Community Facilities (CF) direct loan program, a permanent debt funding option with the primary purpose of improving rural communities. Sioux Center Health leveraged its strong relationships with local banks to obtain competitive construction period interest rates at historic lows with no prepayment penalties. The USDA CF program was then used as the permanent debt, an ideal solution because it allowed the organization to maximize cash flow due to the 40-year term and amortization, as well as extremely competitive interest rate.
"Sioux Center had completed a prior USDA CF direct loan in 2014 so their prior experience made this a natural fit," said Quintin Harris, managing director with Lument, who worked with Sioux Center Health leadership on the transaction.
"USDA provides very attractive financing terms for rural healthcare providers, with loan terms up to 40 years and interest rates currently at historic lows" added Adam Walter, vice president on the Lument team. "That low cost of capital allows borrowers to pursue expansion and renovation projects to improve their service offerings and meet the needs of the community and primary service area for years into the future."
The loan process was not without its challenges, however, as COVID-19 impacted timing. The first round of bonds closed in December 2019 and the second round was originally scheduled to close in April 2020. That got pushed back to November 2020 to allow the hospital to focus on their COVID management and response. Ultimately, interest rates remained at historic lows and the transaction successfully crossed the finish line, with the next chapter of Sioux Center Health ready to begin.
COMING IN 2022
The expansion project is currently underway and scheduled to be complete in 2022. With the hospital campus expansion, Sioux Center Health is increasing the number of family medicine exam rooms, which will ultimately increase the number of patients its doctors can care for. This allows the organization to project higher patient volumes not only in their family medicine visits, but for its ancillary services as well. In addition, Sioux Center Health has learned a lot during the COVID-19 pandemic and the expansion will allow for better patient flow for social distancing and ensuring infection control management within waiting rooms and in public spaces.
The senior living campus expansion will substantially enhance the organization's ability to provide quality service at each level of care. Sioux Center Health prides itself on delivering exceptional care wherever a resident is at in their aging journey, and the new campus and amenities will greatly enrich those efforts.