The 2023 National Investment Center for Seniors Housing & Care (NIC) Spring Conference kicked off with a familiar rundown of challenges and opportunities facing the industry as it continues its post-pandemic recovery.
On the positive side, market fundamentals and occupancy levels continue to improve at a slow but steady pace. The active adult segment continues its ascent and value-based care is gaining momentum. On the other hand, macroeconomic conditions continue to squeeze margins, labor shortages persist, mergers and acquisitions (M&A) activity has contracted, the forgotten middle market is still in need of solutions, and a recession remains a threat. Nonetheless, the long-term outlook for the future of healthcare is for better days: With more Baby Boomers retiring every year, soon there will be no shortage of seniors in need of housing and care for an extended period of time. Although the next few years may be rough for some, those who weather the storm will be well-positioned to reap the benefits of the favorable demographics that make the industry so attractive to long-term investors.
Against this backdrop, operators, capital sources, and other industry professionals converged in San Diego to discuss strategies for success in the post-pandemic era. It became abundantly clear that in the aftermath of COVID, there is an even greater emphasis on value-based care and patient-focused operations—as well-run communities adapted to the dynamics of the pandemic while less-focused organizations faltered.
Stack the Silos
NIC panelists and attendees discussed a variety of specific strategies to build forward-looking operations, from deploying programs that use artificial intelligence (AI) to monitor resident health to emphasizing wellness programs. As operators look to improve care delivery and resident experience, there is a plethora of technological advancements, new applications, improved systems, and other resources from which to select. Many organizations have already installed upgraded systems in response to COVID and in many cases those systems, individually, are effective. The problem that often emerges is that the different systems operate independently of each other, and that lack of synthesis causes complications and inefficiencies.
The key is "elegant integration as innovation," according to NIC keynote speaker Dr. Nirav R. Shah, senior scholar at Stanford University's Clinical Excellence Research Center. Its guiding principle: Operators who can find creative ways to make all their systems and programs work in harmony will be the true innovators of the next era.
According to Shah, the best way to innovate is not with more advanced tech but by finding ways to increase communication between existing tech while producing actionable data. In the current environment, innovative operators are those taking incremental steps to turn all the siloed initiatives affecting residents into one vertically integrated stack of solutions that make residents' lives easier. Operators should no longer think of themselves as providing residential solutions but resident solutions—they should look to help residents in all aspects of their lives not just those that occur inside the building—and this perspective should guide all strategies and business objectives, especially efforts to integrate tech, resources, and partners. An operator might not even make money off every initiative, but if the overarching goal of improving residents' lives is achieved, then the benefits, Shah said, will ultimately find their way to the bottom line.
AI is Already Here
AI innovations continue to impact the industry, and many initiatives are already in place, with systems to help promote autonomy, self-care personalized service, and better outcomes. AI still works best with a human in the loop, keynote speaker Shah suggested. In one such example, AI systems are able to detect unusual activities and alert staff to evaluate the situation and take preventative steps as necessary. The integration of AI in this example has benefits at many levels—the resident's life may be improved and length-of-stay in lower acuity levels of care extended, and the operator's expenses may be reduced by avoiding emergencies.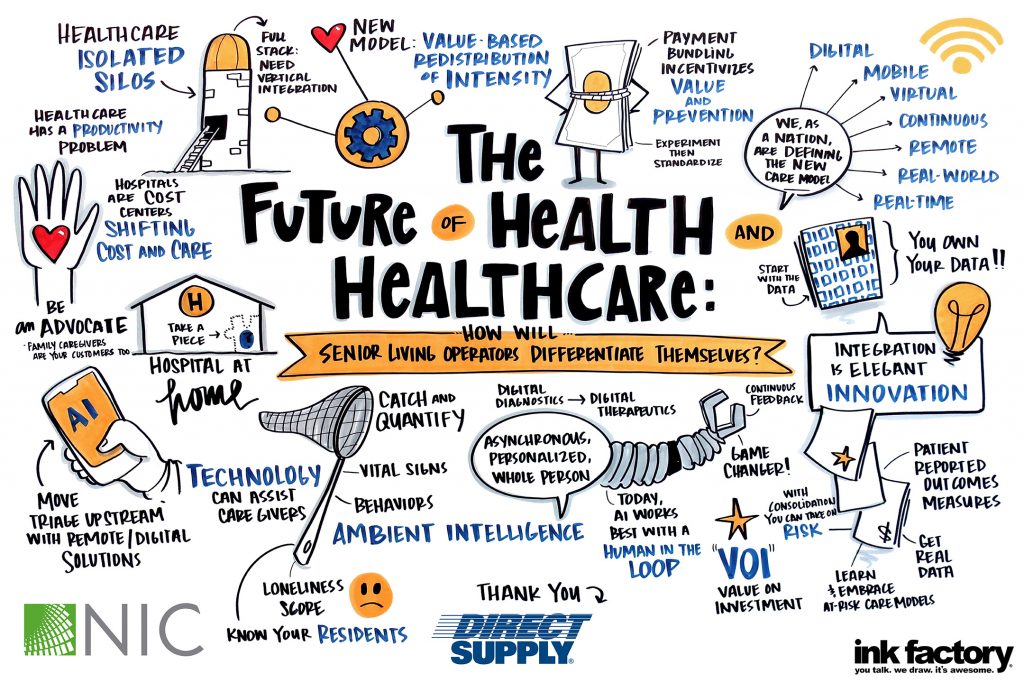 Wellness Revolution
The theme of integration was present in other sessions throughout the three-day conference. For example, industry leader Lynne Katzmann, founder and CEO of Juniper Communities, spoke of an accelerating "wellness revolution" where operators integrate robust wellness programs as part of overall healthcare services, thereby improving resident health as well as the bottom line. Identifying effective wellness programs can be a challenge, and operators may find it prudent to collaborate with their capital partners when identifying and implementing new systems. In many cases, capital partners can find a way to pay for the programs and help get them installed and operational.
Waiting for the Smartphone
Throughout the NIC conference, there was a reoccurring notion that the senior living sector is one piece of tech away from a major industry upgrade across the board—one solution that will help operators integrate all the systems and make everyone's lives easier. As the industry waits for this smartphone-type innovation that will bridge technological divides and bring everything together, the best strategy is to pursue elegant integration by implementing incremental changes to increase synthesis between systems and programs, all driven by residents' needs. Operators that succeed at this approach to innovation while maintaining focus on providing high-quality holistic care and services to their residents will be best prepared to not just survive this time of great transformation but potentially thrive while setting themselves up for longer-term success.