In 2012, HUD created the Rental Assistance Demonstration (RAD) program, an initiative designed to reduce the vast backlog of deferred maintenance in public housing by changing the way public housing agencies are funded. The key: allowing agencies like the New York City Housing Authority (NYCHA) to move communities from Section 9 to Section 8 contracts. Under RAD, the housing agency still owns the buildings, which are still subject to federal regulations and income restrictions; however, they are managed and operated under long-term leases by private companies, which secure the loans needed to modernize them.
To be successful, RAD developers have to walk a fine line. In addition to undertaking extensive and often elaborate renovations, they have to reset the resident relationship through responsive management, enhanced security, and convenient social service programs, all while keeping a very close eye on the bottom line. Rents are set at 30 percent of household income to preserve affordability. It takes experience, discipline, and ingenuity to make the numbers work.
To gain insight into how this is done, we sat down with Susan Camerata, CFO of Wavecrest Management, and Matthew Rooney, CEO of MDG Design + Construction. Their joint venture, RDC Development, is an acknowledged pioneer in the field, having completed NYCHA's extremely challenging first RAD conversion and largest single site conversion in the nation, the Hurricane Sandy-damaged Ocean Bay Apartments in Far Rockaway in 2019. RDC had substantially completed work on NYCHA's Betances portfolio in the Bronx before the pandemic put the finishing touches on hold and has since started predevelopment work on the Williamsburg Houses in Brooklyn.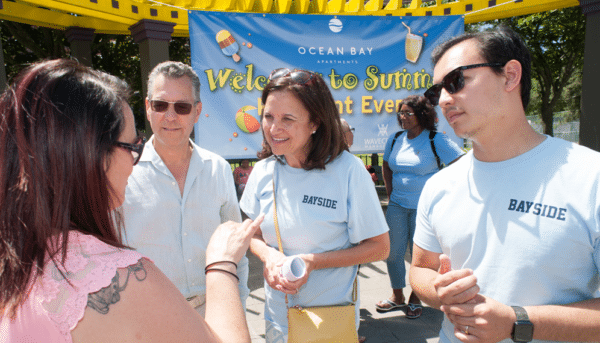 The discussion below examines the reasons their two firms joined forces, RDC's experience doing RAD conversions, and the value of partnering with an experienced, affordable housing lender like Lument when traditional sources of financing are unavailable.
Both your companies have long been involved in New York's affordable housing market. How did you get your start?
Susan: My husband, Fred, and I began Wavecrest in 1979 by securing a net lease on a property in Far Rockaway. As it turned out, we did so well that the owners eventually bought us out. That money was burning a hole in our pockets, so we began investing in the Bronx, where my husband grew up. We developed a reputation for tax credit financing and turning around distressed properties. Today, Wavecrest manages more than 25,000 units in over 300 buildings in the metropolitan area. In 2010, we brought our son Joey into the business.
Over time, we've learned a lot about what it takes to be successful in affordable housing. Because rents are regulated, you have to control everything else — and that requires hard work, attention to detail, and creativity. But we also learned that affordable housing involves a lot more than fixing up an apartment. You need to see the world from the resident's perspective. The experience of getting to know our residents — and understanding the challenges they face — has really changed me.
Matthew: My dad, Michael Rooney Sr., founded MDG back in the 1980s as a general contractor. One of the ways he and his partner, Nicola DeAcetis, secured business was to connect clients with tax-abatement and low-interest loan opportunities from the city. From that, moving into affordable housing was a natural progression. To date, MDG has created or preserved 19,000 units of affordable housing and is responsible for more than $2 billion in construction and development.
Occupied rehab is a specialty we've cultivated that has been particularly valuable in working with affordable housing. That's because one of the biggest fears that residents have in New York is displacement. We've developed several strategies that enable us to do things like installing new kitchens and bathrooms — even rehab walls, floors, and ceilings — without needing residents to move out. That requires extensive coordination, tight scheduling, and as Susan said, excellent communication and relationships with our residents.
Why did Wavecrest and MDG decide to join forces when NYCHA announced the Ocean Bay conversion?
Susan: First of all, it was a good fit. Together, we have more than 80 years of experience in development and management. Also, we are both family businesses with a shared culture and values. We treat the work we do for our residents as if we were doing it for ourselves, for our families. In fact, the name we chose goes to the core of who we are. RDC stands for Rooney, DeAcetis, and Camerata.
Besides, my husband, Fred, and Matthew's father, Mike, have known each other for 35 years, and our companies have worked together on several occasions. We had a history together.
Matthew: When the original RFPs came out for NYCHA's first RAD project, we thought a joint venture would be perfect. There are a lot of great managers and great contractors in the city. However, we knew that the chemistry between our two companies would be a great advantage in dealing with these complicated, highly visible projects. Being on the same page would be a real plus.
The stakes for your first RAD conversion — Ocean Bay Apartments — were pretty high. The RAD program was unproven in New York City, and the complex was in poor shape.
Matthew: That's right. There were challenges on just about every level. Ocean Bay is home to 4,000 residents who live in 1,395 units spread across 24 buildings. It dated back to the 1960s and already needed extensive maintenance when Hurricane Sandy flooded the Rockaways in 2012. When we came along, it still depended on temporary boilers.
To give you an idea of the extent of the renovation, we converted the complex from one central boiler system to individual boilers on the roof of each building. We replaced those roofs, installed solar panels, upgraded elevator machinery, and equipment, built a secure flood wall around the entire 33-acre site, installed security cameras, implemented a key fob entry system, and improved lighting — in addition to thoroughly renovating each apartment.
Financing was equally complicated. There were FEMA funds, six different LIHTC investors, a construction loan, an investment tax credit generated by the solar, and New York State Housing Finance Agency tax-exempt bonds.
Susan: We also had to win the residents over. They had been through so many programs that had not panned out, and we were the first RAD program in the city. I think one of the biggest things that helped convince residents that we were going to follow through was that every one of the owners stood in front of the residents at every single meeting. We didn't hide behind our staff. We were the ones making presentations, giving our word, asking them to hold us accountable.
Matthew: The first turning point was when the initial group of bathrooms went in. We were struggling the first week or two because no one wanted us in their apartment. But when residents saw the quality of the renovation and understood that they didn't have to move out, they started getting on board and asking when they were scheduled to have the renovations completed.
Susan: There were a lot of little things that turned the tide. When we started holding events with our social service partners, Ocean Bay Community Development Corporation and Catholic Charities of Brooklyn and Queens, more people came over. Each step, we took lowered suspicions a little bit. We also insisted that we would have onsite supers, which they never had before. This means that they can count on repairs being addressed a lot more quickly than in the past. As time went by, you could feel the changed atmosphere as you walked around the complex.
How did Betances differ from Ocean Bay?
Matthew: Ocean Bay has a uniform set of buildings arranged around a central campus. The Betances portfolio consisted of 1,088 units in 39 properties scattered across the Mott Haven neighborhood in the Bronx. The buildings were of a variety of vintages — constructed in 1906 and 1974 — and ranged from a two-story walk-up to a 20-story high rise. This made planning for construction and management much more complicated — and after the city ran short of bonds for LIHTC transactions, the diversity of the project significantly complicated financing.
Initially, we looked to FHA funding to fill the gap, but it soon became apparent that this was not going to work out. The team from Lument alerted us that Fannie Mae was very interested in taking a more active role in financing RAD properties. We ended up securing a 30-year, $120.6 million loan with an extended 40-year amortization.
Lument was very helpful here. Although Fannie Mae requires less documentation than FHA, there were issues to work out for each building. Lument worked as an intermediary between Fannie and us, smoothing out the process of moving units to Section 8 Housing Assistance Payments (HAP) contracts and coming up with creative solutions, whether they entailed escrow accounts or side agreements, that felt comfortable all around. Lument didn't just provide financing. They made the financing possible.
With Ocean Bay and Betances behind you, what's next for RDC?
Susan: We are in predevelopment on our third RAD conversion, the Williamsburg Houses in Brooklyn. This our biggest project yet with 1,630 units. One of the great things about having a track record is that it gets easier and easier to win resident trust. We can take residents to our completed communities, and they can see what we've done. It makes a real difference in helping us build momentum quickly.